2020 Award Winner: Chrystal E. Williams, Mezzo-Soprano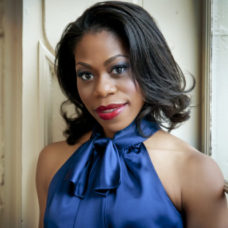 Mezzo-soprano Chrystal E. Williams has been described by critics as "strong and so assured", "lithely negotiating the coloratura demands before descending into a robust low register", and "poised, polished, in complete command of the vocal calisthenics". She is a winner of Astral's 2014 National Auditions.
Ms. Williams makes her Metropolitan Opera debut in the fall of 2019, as Maketaten in Philip Glass's Akhnaten. The 2019-2020 season also includes the role of Stewardess in Minnesota Opera's production of Jonathan Dove's Flight, performances with New York's On Site Opera, performances as soloist in Bernstein's Songfest with the Seattle Symphony, a Southern-U.S. tour as soloist in George Crumb's The River of Life with Orchestra 2001, and recitals in Michigan, Idaho, and Pennsylvania.
Beyond the opera stage, Ms. Williams is a passionate advocate of music as a means to foster unity, understanding, and peace. The upcoming season sees the launch of "Forrópera", which she co-created with duo partner, Brazilian accordionist Felipe Hostins. Forró, meaning "for all", combines elements of classical music with traditional Brazilian folk music. The Chrystal E. Williams Scholarship was founded by Ms. Williams in 2004, to help students wishing to pursue a career in the performing arts, and is funded in part by her concert, "An Evening with Chrystal E.," held annually in Norfolk, Virginia.
Recently, Ms. Williams returned to the Birmingham Opera Company (U.K.)   in a critically acclaimed performance in the role of Katerina in Shostakovich's Lady Macbeth of Mtsensk, and sang under the baton of Sir Simon Rattle with the City of Birmingham Symphony Orchestra. She also revisited the role of Rebecca in Charlie Parker's YARDBIRD for Atlanta Opera, a role she created for Opera Philadelphia and has also revisited with Arizona Opera, at the Apollo Theater in Harlem, and in a co- production with Hackney Empire and English National Opera. She reprises the role in February 2020 for Seattle Opera.
Ms. Williams has sung Charlotte in Werther with both Opera Delaware and Baltimore Concert Opera. For the Birmingham Opera Company, she has sung Dido in Dido and Aeneas and Hannah in Michael Tippett's The Ice Break, under the direction of Graham Vick. She debuted with the Washington National Opera as Elizabeth Keckley/Coretta Scott King in Philip Glass' Appomattox, created the role of Yvette in the world premiere of Eric Sawyer's The Garden of Martyrs, debuted as Linda in Kurt Weill's Lost in the Stars with the Glimmerglass Festival, and portrayed Mary in Ricky Ian Gordon's Morning Star with On Site Opera. She has also sung Rosina in Il barbiere di Siviglia with Sarasota Opera, Publia in Rossini's Aureliano in Palmira at the Caramoor Center for Music and the Arts, Hänsel in Hänsel und Gretel with Knoxville Opera, and Olga in Eugene Onegin with the Northern Lights Music Festival.
As a concert soloist, Ms. Williams has appeared with the Cairo Symphony, the Norrköping Symphony Orchestra (Sweden), Springfield Symphony, North Carolina Philharmonic, Boston Modern Orchestra Projects, and the Lancaster Symphony Orchestra, and made her Philadelphia Orchestra debut under Yannick Nézet-Séguin, in Bach's Nach dir, Herr, verlanget mich, BWV 150.
The First Prize and Audience Choice Award winner at the 2014 Wilhelm Stenhammar International Music Competition in Sweden, Ms. Williams has also received awards from the Giargiari Bel Canto Competition, the Liederkranz Foundation, Inc., and the New England Region Finals of the Metropolitan Opera National Council Auditions, among others.
Chrystal E. Williams is an alumna of the Academy of Vocal Arts. She also holds a Master of Music degree in Opera Performance from the Yale School of Music, and a Bachelor of Fine Arts degree in Voice Performance from Carnegie Mellon University.