2016 Award Winner: Kuok-Wai Lio, Piano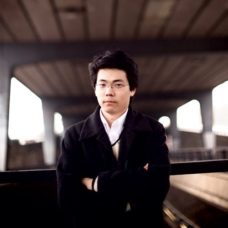 Born in Macau in 1989, Kuok-Wai Lio began his piano studies at the age of five. In 1997 he was awarded a scholarship to study at the Hong Kong Academy for Performing Arts, and in 2006 he entered Curtis. His principal teachers have included Gabriel Kwok and Gary Graffman. Most recently, Mr. Lio has been working regularly with András Schiff at international master classes and festivals in Europe, and in 2013 he was a recipient of the Avery Fisher Career Grant.
Recent performances include solo recitals at the Ravinia Festival, Vancouver Recital Series, and chamber music concert at the Salzburg Festival.  A regular participant of Open Chamber Music Prussia Cove, and the Marlboro and Santa Fe Chamber Music festivals, Kuok-Wai has also performed with the Macau Orchestra, Hong Kong Philharmonic, China Philharmonic, Pan Asia Symphony Orchestra, Kansas City Symphony Orchestra, Grand Rapids Symphony, Curtis Chamber Orchestra, Russian Symphony Orchestra and Camerata Salzburg, and has given recitals in Japan, Germany and Italy.
Kuok-Wai Lio has received prizes in international competitions including Fulbright, Gina Bachauer, Seiler, Steinway, Ettlingen and Chopin (Tokyo). In January 2004, he was awarded a Commendation of Merit given by the Chief Executive of Macau. That same year he was invited to perform for the President of China, Hu Jintao, at the fifth anniversary of Macau's handover to China.