2006 Award Winner: Natalie Zhu, Piano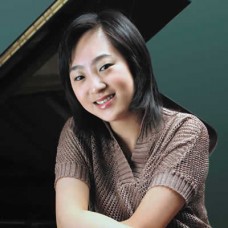 "Images", the debut solo recording of Natalie Zhu featuring Mussorgsky's "Pictures at an Exhibition", Debussy's "Images" Book I&II, and Chia-Yu Hsu "Among Gardens". Exquisitely performed, magically recorded. Enjoy your copy today.
The recipient of a 2006 Musical Fund Society Career Advancement Award, the 2003 Avery Fisher Career Grant and the 2003 Andrew Wolf Memorial Chamber Music Award, pianist Natalie Zhu is a winner of Astral Artistic Services' 1998 National Auditions. The Philadelphia Inquirer heralded Astral's presentation of Ms. Zhu in recital as a display of "emotional and pianistic pyrotechnics"; selections from the recital were later broadcast on National Public Radio's "Performance Today."
Ms. Zhu has performed throughout North America, Europe, and Asia as a soloist, recitalist, and chamber musician. In the U.S. she has appeared as soloist with the Indianapolis Symphony, the Pacific Symphony, the Haddonfield Symphony,the Concerto Soloists Chamber Orchestra of Philadelphia, the Astral Chamber Orchestra, the Bergen Philharmonic, China Philharmonic, Riverside Symphony Orchestra, and the Colorado Philharmonic National Repertory Orchestra. Ms. Zhu made her European debut in 1994 at the Festival de Sully et d'Orleans in France, she has also given solo recitals at the Philadelphia Chamber Music Society, New York's Steinway Hall and Merkin Hall, Philip Lorenz Memorial Keyboard Series in Fresno, Portland Piano Festival in Oregon, Munich's Herkulessaal in Germany, and Beijing Concert Hall in China. She has performed with both the Vermeer and Miami quartets, and collaborated with members of the Guarneri, Orion, Mendelssohn,Ying Quartets, and the Beaux Arts Trio. Ms. Zhu has been touring with renowned violinist Hilary Hahn since 1997, stepping in for pianist Garrick Ohlsson in several performances of Ms. Hahn's October 2000 U.S. tour; Ms. Zhu and Ms. Hahn have maintained a partnership until 2006 with tours around the world, including a hugely successful Carnegie Hall recital debut. The duo toured throughout the U.S., Europe, and Asia in the 2004-2005 season, appearing in Hanoi, Bangkok, Shanghai, Taipei, Tokyo, Lyon, Lucern, Hamburg, Geneva, London, and a benefit concert for the Red Cross in Phnom Penh, Cambodia. Ms. Zhu and Ms. Hahn released a CD for the Deutsche Grammophon label in September 2005.
Ms. Zhu has been the recipient of numerous awards including the grand prize in the both the 1988 and 1989 Young Keyboard Artists Association Competition. She was the first-prize winner in the Johanna Hodges Piano Concerto Competition in 1988 and 1991, and also received its 1991 Concert Series Award. An active chamber musician, she has appeared in Marlboro, Amelia Island, Kingston, Great Lake, Tanglewood, Skaneateles, and the Bay Chamber Music Festivals.
Natalie Zhu began her piano studies with Xiao-Cheng Liu at the age of six in her native China and made her first public appearance at age nine in Beijing. At eleven she emigrated with her family to Los Angeles, and by fifteen was enrolled at the Curtis Institute of Music where she received the Rachmaninoff Award and studied with Gary Graffman She received a Master of Music degree from the Yale School of Music where she studied with Claude Frank.