An expedition to the Kislak Center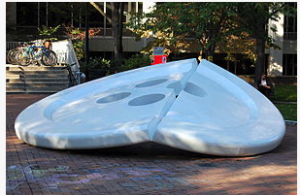 On a stunningly beautiful Friday morning in mid-May, I joined three other MFS board members of greater standing than me—president Peter Burwasser, vice-president Janelle McCoy, and secretary Melinda Whiting—for a field trip to the Kislak Center for Special Collections, Rare Books, and Manuscripts at the University of Pennsylvania's Van Pelt Library.
"We'll meet at the Button at 10:30," Peter had emailed. I had no idea what he was talking about. It turns out that there's a Claes Oldenburg sculpture, a representation of a huge white folded button right in front of the building. Kind of hard to miss, actually. Now I know. Our proximate reason for visiting the Kislak Center was that it houses the MFS archives—remember, we're the oldest musical organization in the country—and we actually needed to see a document from the 1920s relevant to current operations. Turned out an actual visit wasn't necessary: library staff had sent a scan of the artifact to Peter and that, of course, answered the question.
But we'd previously set up an appointment with David McKnight, the Director of the Rare Book and Manuscript Library (and a curator of its holdings) and decided to keep it. We were glad we did. McKnight is an affable man who clearly sees it as his mission to provide access to interested parties of all stripes—students, visiting professors, the public—to the incredible wealth of materials the museum has amassed since the 18th century. The Kislak Center is an expansive, visually appealing, and comfortable space and is frequently used for conferences and other events. In fact, Peter and Janelle had a preliminary discussion with David McKnight about using the facility for the 2015 MFS winter (December) meeting; stay tuned on that one.
A large space was being repurposed (in part, to make troom for a much more spacious restoration laboratory) and a big chunk of the Kislak's holdings were headed off-site for temporary storage. For that reason, and because McKnight had so much to tell us, we didn't see any documents—MFS materials or otherwise. But there's clearly a pretty much limitless trove to explore: the original manuscript of Bartok's String Quartet No. 3, Ormandy's and Stokowski's papers, that kind of thing. I know I'll be returning. McKnight knows a lot about a lot of things, but I think he surprised us all by announcing that he had a special passion for The Beatles.
Peter B. knew that the 50th anniversary of the Fab Four's appearance on the Ed Sullivan show was upon us, which definitely improved our standing with McKnight. Peter also told a story about his baby sitter (our fearless leader was eight at the time) watching the television performance that David McKnight really liked. But you'll have to ask PB himself for further details in that regard.