Conrad Tao Takes Philadelphia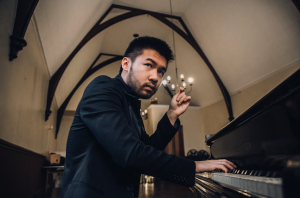 "We're lucky to have him while we can still afford him," said Chamber Orchestra of Philadelphia executive director (and MFS vice president) Janelle McCoy. She was referring to pianist/composer Conrad Tao, who had just finished the first public performance of his new concerto for piano and electronics, An Adjustment. The deeply personal work grew from an almost minimalist whisper to a mighty roar in the course of its three movements, as Tao's hands ran up and down the keyboard in a blur. After the intermission, Tao was scheduled to play a warhorse, the Saint-Saëns Piano Concerto No. 2, a work that I thought I had heard too many times. Janelle urged me to stay. Her publicist, Edward McNally (and MFS member), also assured me that I would be missing something quite spectacular. I stayed. They were right; Tao virtually re-invented the music with his magical blend of digital precision and virile energy. The audience clamored for an encore, and he gave us the last movement of the Prokofiev Seventh Piano Sonata, yet another knuckle buster.
Conrad Tao is a double threat as an exciting composer and riveting soloist, radiating the kind of artistic charisma that palpably ripples through an audience. And by the way, he's just old enough to order a beer legally. He's still a college student, in a dual program at Columbia University and Juilliard. The future of classical music? Why not?