Cynthia Raim: A Career Advancement Winner Continues to Shine Brightly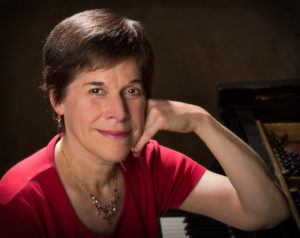 One of the proudest achievements of the Musical Fund Society in its recent history has been the extraordinary professional and critical success of the winners of the Career Advancement Award, given to musicians with local ties at the outset of their careers. Their ranks include bona fide superstars of the classical music world, including pianist Marc-André Hamelin and operatic basso Eric Owens, and recent winners whose reputations seem to be soaring before our eyes, such as the glorious soprano Sarah Shafer and the charismatic bass player Xavier Foley.
On Friday, October 18th, the Philadelphia Chamber Music Society opened the new season with a piano recital by one of the earliest Career Advancement Award winners, Cynthia Raim, who received the honor in 1987. She was, then, a recent Curtis graduate, a student of Rudolf Serkin and Mieczyslaw Horszowski. As was often the case with other students of Serkin and his "assistant," it was the magic of Horszowski's all encompassing artistic vision and his own magnificent playing that made the greatest impact on the disciple. Raim's own career even resembles that of her beloved mentor, as she has eschewed the razzle dazzle of the concert world, instead concentrating on chamber music performance and meticulous renditions of the core repertoire. This recital, including music of Beethoven, Debussy, Brahms and Schumann, seemed like a tribute to Horszowski, both in terms of the music itself, and also the glowingly beautiful, thoughtful manner in which she played it. Her comments from the piano bench for each piece were both touchingly personal and insightful.
It was, for this listener, the Schumann that will linger in the mind's ear above all. I have considered Raim to be one of the pre-eminent Schumann players of our time for many years, and her colossal rendering of the epic Carnaval only solidified that impression. Schumann's early masterpiece is a veritable opera for solo piano, with a huge range of wildly contrasting emotions and character studies, and the joyfulness and stunning virtuosity that she summoned to portray this drama utterly enchanted her audience. May we continue to pick our young artists as well as we did thirty three years ago!