Rehearing New Music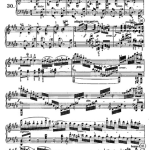 What could be more challenging for a composer than getting a commission for a new work, and having it premiered by top-level musicians? The answer: getting a second performance. And a third, and a fourth, and so on. What does it take for a new work to enter the standard repertoire? It is an essential question in this most ephemeral of art forms, music, which really only matters if it is heard. In this, the Musical Fund Society's blog debut, we invite our members, and the musical public beyond, to join the discussion.
Ultimately, there are no simple formulas. The discussion began, for me, with a phone conversation early last year with the composer Jeremy Gill, a well-known and highly regarded composer in the Philadelphia musical community. Gill had been commissioned by Lois Lehrman Grass Foundation to write a clarinet concerto for the Harrisburg Symphony Orchestra. Certainly, Gill's resume gave him a good running start. He was a student of two of the most performed living composers of our time, George Crumb and Christopher Rouse. His own style, like those important mentors, is richly communicative and expressive without any sense of pandering. Live performances of his music, as well as his CDs, have been very well received by critics and audiences. Still, he was apprehensive not just about the debut of his work but for its potential future as a concert work.
His Notturno Concertante for clarinet and orchestra was premiered on November 8, 2014, by the HSO, conducted by Stuart Malina, with Christopher Grymes as the soloist. I made the trip out to the capital city both as a part of exploring this issue of new music and staying power, and because I really like Gill's music. Not surprisingly (to me), the work is very fine, featuring a broad, episodic structure, Gill's keen sense for timbral blending, and perhaps most significantly, a brilliantly colorful virtuoso solo part. Grymes, who played the music from memory, delivered a swaggeringly bravura performance that brought much of the audience to its feet. This, in relatively conservative Harrisburg.
What next? Gill: "I'm very lucky to be the composer the Foundation decided to invest in. But I guess that's about calling the thing into existence, not ensuring a life after birth." From a practical perspective, Gill admits to being disappointed in the lack professional interest in the new work. A composer must be his or her's own best publicist, and despite the fact that Gill called on a broad range of critics from his large circle of acquaintances to attend (with the HSO offering overnight accommodations and travel expenses; I declined), I was, by his account, the only journalist outside of the metro Harrisburg area to attend.
Then there is the sheer practical matter of getting a soloist and an orchestra to sacrifice the considerable time needed to do justice to a challenging score. Christopher Grymes has some insight on this matter. "Obviously, there are players who can nail it as hard and harder than I did, but it is a pretty stiff challenge, and would take at least a decent investment for any player. I'm not sure I can totally separate myself from it, but I think it's actually a really good piece, and I feel like other players would play it. I would of course relish the opportunity to throw it down again. The question is how do you make soloists and orchestras aware of this kind of piece? I know for my part, I'm sending the recording around to my friends, and I'm hoping it grabs at least one of them."
There are plenty of success stories out there, including among local composers; Jennifer Higdon's blue cathedral has been performed over 400 times since it was premiered in 1999. Kile Smith's Vespers has had a number of well-received presentations. What are the secrets to success? What are the lessons for other composers? Let's start a conversation.