Sarah Shafer Nails Adina in L'elisir d'amore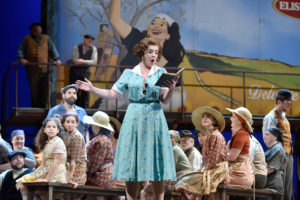 The Musical Fund Society has done more than OK with its choices for singers to receive our annual Career Advancement Award. In 2000, the prize went to bass Eric Owens, in 2002 to mezzo Marietta Simpson, in 2007 to Stephen Costello, and in 2013 to soprano Sarah Shafer. All have been establishing significant international careers on the operatic stage, in appearances with major orchestras, and as recitalists. All of these vocalists have important Philadelphia connections, and there's always an element of pride that adds to the artistic excitement when one of them returns to sing locally.
For the past few weeks the attention here has been on Ms. Shafer, who was in town to portray Adina in five performances of Opera Philadelphia's production of Donizetti's L'elisir d'amore. Shafer was perfect—vocally secure and comically endearing (but never going over the top) in a production that took great pleasure in riffing on the typical dramatic conceits of bel canto opera. She got off to a great start with her first act aria "Della crudele Isotta" and just got better and better through her final touching scene with Nemorino (it's not Shafer's fault that the tenor gets the best aria in the piece.)
Check out the short video the singer made for Opera Philadelphia last year as one of the company's Emerging Artists. She's so…normal…for an opera singer. No diva, Sarah Shafer—just a terrific actress musician.
https://www.youtube.com/watch?v=k-0IpGZazDo