The "Status" of The Philadelphia Orchestra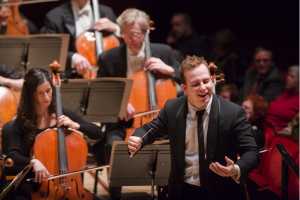 Guys like making "top five" lists (remember the book/movie High Fidelity?) and I've been doing the mental exercise with orchestras since I first got into classical music as a kid. My primo category has always been "The World's Top Five Orchestras" and I was always happy—too happy, my wife will tell you—to rattle off my rankings at times when, truly, no one had asked.
And I'll admit it: as much of a fan as I've been of our own symphonic institution, the Philadelphians have never quite made it into my Top Five. Until now. Over the last two years, I've been convinced of the consistently stellar performance of the Orchestra in a wide range of repertoire (and with many conductors, though especially with Yannick on the podium.) There isn't a weak section or principal player in the Orchestra. Naturally, YNS doesn't get all the credit for the fact that the current personnel are seated before him each night—there was a good deal of orchestra building going on for the decade before his tenure began—but, boy, does he ever use those resources to their fullest advantage. Whether Nézet-Séguin is conducting Bach from the harpsichord or Bernstein in a T-shirt, the musical effect is overwhelming.
The Orchestra just back from a European tour, one that included cities that know a thing or two about great symphonic ensembles—Vienna, Berlin, Amsterdam, Paris, London. The locals were duly impressed. Check out this (translated) review from the Morgenpost in Berlin:
https://www.philorch.org/sites/default/files/blog/150528_Berliner%20Morgenpost_translation.pdf
Note that reference to the fact that the music director job for the Berlin Philharmonic is opening up. Don't even think about it, Berlin. I know a guy in South Philly that could make you regret any action to seduce away our maestro….
The Musical Fund Society has a history with the Orchestra that goes back to their very beginnings. In the nineteenth century, MFS was the sponsor the Germania Orchestra that merged with the newly created Philadelphia Orchestra in 1900. The Fund continues to provide occasional grant support to the ensemble.
So, my Top Five Orchestra of the moment? In no particular order:
Philadelphia—Concertgebouw—Vienna—Berlin—San Francisco
Would love to see  lists from other enthusiasts.