2015 Award Winner: Ayane Kozasa, Viola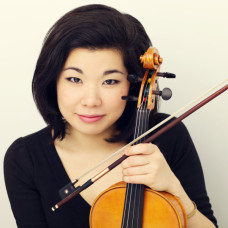 Winner of the prestigious Primrose International Viola Competition in 2011, Ayane Kozasa also captured the Competition's Mozart Award for the best chamber music performance, as well as its Askim Award for her performance of the Competition's commissioned work. A winner of Astral Artists' 2012 National Auditions, Ms. Kozasa was also the winner of a 2012 S&R Washington Award and has been a prizewinner at the Irving M. Klein International String Competition. She was named principal violist of the Chamber Orchestra of Philadelphia in 2013, and made her European debut with the Augsburg Philharmonic in Mozart's Sinfonia Concertante in April 2013, with violinist Jehye Lee. She has been featured in The Strad and Strings magazines and her performances have been broadcast on "Live from the Mayne Stage" for WFMT in Chicago and on Philadelphia's WHYY. In the fall she will appear on a CD with the Lincoln Trio on Cedille Records.
Ms. Kozasa's interest in chamber music has led her to a number of concert appearances across the U.S., including a national concert tour with pianist Ignat Solzhenitsyn, as a part of "Curtis on Tour." She participated in Ravinia's "Steans on Tour" in the 2012 and 2013 seasons, and appeared on Ravinia's series in August 2013. Ms. Kozasa has participated in numerous festivals, including Marlboro Music Festival, West Cork Chamber Music Festival, Music from Angel Fire's Young Artists Program, Steans Music Institute at the Ravinia Festival, the Aspen Music Festival, and the Norfolk Chamber Music Festival. In the summer of 2014, she appears at the Kingston Chamber Music Festival, the S&R Chamber Music Festival as well as the Methow Valley Chamber Music Festival in Seattle. Ms. Kozasa performs as a member of the Aizuri Quartet. The Quartet will be the resident quartet of the Curtis Institute of Music starting September 2014.
Ms. Kozasa was a recent Young Soloist at Germany's Kronberg Academy studying with renowned violist Nobuko Imai. In 2012, she graduated from the Curtis Institute of Music studying with violists Misha Amory and Roberto Díaz, where she was the George and Marie Hecksher Annual Fellow. She holds a Bachelor's degree from the Cleveland Institute of Music, where she studied with Kirsten Docter. She also studied violin with William Preucil while at CIM, and has also worked with Michael Tree, Nathan Cole, Cyrus Forough, and Philip Lewis.