2019 Award Winner: James Reese, Tenor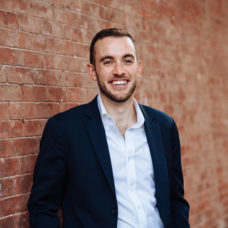 James Reese's singing has been praised for its "intensity and sensitivity…spirituality and eloquence." He is a frequently sought tenor soloist with leading orchestras and ensembles throughout North America, including the Philharmonia Baroque Orchestra, TENET Vocal Artists, Bourbon Baroque Orchestra, Lyric Fest, and the Gamut Bach Ensemble. This season, James will collaborate with pianist Daniel Overly in a concert-length recital of art song at the Philadelphia Chamber Music Society. He also looks forward to making debuts with American Bach Soloists, the Elgin Symphony Orchestra, the Washington Bach Consort, the Brooklyn Art Song Society, and New York's Musica Sacra.
James is a noted interpreter of baroque music, giving performances both "splendid" (San Francisco Chronicle) and "captivating" (Broad Street Review). Following his Carnegie Hall solo debut in Bach's B Minor Mass with the New York Choral Society, the New York Classical Review noted "the high, easy tenor of James Reese…floated beautifully on its own over the long, gentle lines of the Benedictus."
An advocate for new music, James was a founding member of Philadelphia vocal sextet Variant 6 (variantsix.com). He sings frequently with leading choruses and vocal ensembles, including The Crossing, Seraphic Fire, and Gallicantus.
James is a graduate of Northwestern University's Bienen School of Music. He holds a masters degree from Yale University's School of Music, where he studied with James Taylor at the Institute of Sacred Music. In 2018 he won the Margot Fassler Award at Yale. He is also a winner of the Career Advancement Award, which recognizes promising young artists, from the Musical Fund Society. He lives in Philadelphia.