2019 Award Winner: James Reese, Tenor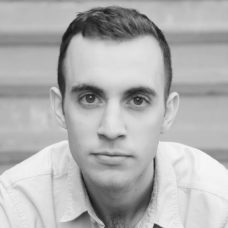 James Reese is an avid ensemble, chamber, and solo musician whose singing has been praised for its "intensity and sensitivity…spirituality and eloquence." (Chestnut Hill Local)
James' 2018-19 season sees his Canadian and Austrian debuts with the Calgary Philharmonic Orchestra and Gallicantus, and his debuts with TENET Vocal Artists,  Bourbon Baroque Orchestra, Delaware Choral Society, and the Sun Valley Symphony; as well as return performances with Philharmonia Baroque Orchestra, Lyric Fest, Philadelphia's Bach @ 7 series, and Bach Vespers @ Holy Trinity Lutheran NYC.
In addition, James will appear with The Crossing, Santa Fe Desert Chorale, True Concord Voices and Orchestra, and Variant 6.
Previously, James has appeared in concerts with Nicholas McGegan and Philharmonia Baroque Orchestra; Masaaki Suzuki and Juilliard415; the American Classical Orchestra; and at the Ad Astra Music Festival.
In May 2018, he made his Carnegie Hall solo debut in Bach's B Minor Mass with the New York Choral Society, directed by David Hayes. Of that performance, the New York Classical Review wrote, "the high, easy tenor of James Reese…floated beautifully on its own over the long, gentle lines of the Benedictus."
In June 2018, he made  his European debut with ensemble Seconda Prat!ca, in a recital with soprano Lucía Caihuela at Splendor Amsterdam.
An advocate for new music, James is a founding member of Philadelphia vocal sextet Variant 6 (variantsix.com). He has premiered works by Ted Hearne, John Luther Adams, Judd Greenstein, Joel Puckett, Gabriel Jackson, and others. James sings frequently with leading American choruses, including The Crossing, Santa Fe Desert Chorale, Seraphic Fire, True Concord, and The Thirteen.
He has recorded on the ECM, Innova, and Albany labels; including The Crossing's release of Gavin Bryars' The Fifth Century, which won a Grammy for Best Choral Performance in 2018. He also sang on 2016 Grammy-Nominated Bonhoeffer, released by the Crossing.
James is a graduate of Northwestern University's Bienen School of Music, where he studied with Kurt R. Hansen, Alan Darling, and Donald Nally. He is a recent graduate of Yale University's Institute of Sacred Music, where he studied with James Taylor as part of the Yale Voxtet.