2022 Award Winner: Jean Bernard Cerin, Baritone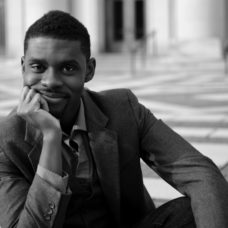 Praised for his "burnished tone and focused phrasing," (Chestnut Hill Local) baritone Jean Bernard Cerin has charmed audiences throughout the United States, France, Austria, and his native Haiti. A gifted recitalist, he won the Gerard Souzay Prize for best performance of a French Mélodie at the Joy in Singing International Song Competition in 2018. On the concert stage, Jean Bernard has appeared with leading early music ensembles throughout the United States including Cleveland's Les Délices, American Bach Soloists in San Francisco, Philadelphia Chamber Music Society's Gamut Bach Ensemble, Piffaro Renaissance Wind Ensemble, Louisville's Bourbon Baroque, and the Philadelphia Bach Festival. This season, Jean Bernard debuts with the Greater Bridgeport Symphony in CT, Classical Uncorked in Seattle, and the Berkeley Early Music Festival in California. Closer to home, in Pennsylvania, he has several concerts with Philadelphia Choral Arts, Night Music, Lyric Fest, and the Bucks County Choral Society.
On the operatic stage, Jean Bernard has portrayed villains, buffoons, and heroes with the Aspen Opera Theater Center, Brevard's Janiec Opera Company, Center City Opera Theater in Philadelphia, and Opera Philadelphia among others. Favorite roles include Mozart's Don Giovanni and Papageno as well as Benjamin Britten's Tarquinius from The Rape of Lucretia.
Jean Bernard is a member of Kuwento Mizik, a classical crossover piano vocal duo. The duo won Best Performance of a Folk Song at the 2021 Canto Latino Cyber Challenge. They have performed their stories and music at venues all over the country including the Detroit Institute of Art and The Metropolitan Museum of Art. This season, they are releasing their first album "Lua Nova", a program of mostly original arrangements of folk and popular ballads from Brazil, Haiti, the Philippines, Iran, India, and the United States.
As a researcher, Jean Bernard is interested in Haitian classical music and music of the African diaspora. He launched the Lisette Project in 2021, which is a digital humanities initiative focused on early Haitian classical music beginning with the oldest song in Haitian Creole, Lisette quitté la plaine. He is producing a documentary about the song premiering in spring 2022.
Jean Bernard serves as an assistant professor at Lincoln University in Southern Pennsylvania and will be joining the faculties of the Collaborative Piano Institute in Baton Rouge and Singing Down the Barrier at the University of Michigan in Ann Arbor next the summer. He completed his doctorate at the University of Michigan, holds a Master of Music from the New England Conservatory in Boston, and a Bachelor of Arts from St. Joseph's University in Philadelphia.