2012 Award Winner: Julietta Curenton, Flute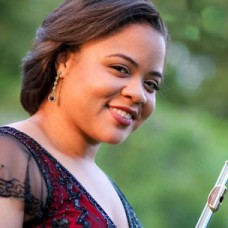 The Philadelphia Inquirer says flutist Julietta Curenton's "tone glows more than it sparkles, and it draws in one's ear with sounds and ideas that simply cannot be resisted." The winner of the prestigious Musical Fund Society of Philadelphia Career Advancement Award in 2012, Ms. Curenton also captured the Premier Prix at the International Chamber Music Competition in Arles, France (along with harpist Bridget Kibbey), and has won young artist competitions sponsored by the National Flute Association, New York Flute Club, Friday Morning Music Club, and the Mid-Atlantic Flute Club. She is also a winner of Astral Artists' 2010 National Auditions, and has appeared as soloist with the National Symphony Orchestra, Baltimore Symphony, Kennedy Center Institute Orchestra, Amadeus Chamber Orchestra, U.S. Army Orchestra, Alexandria Symphony, and the Fairfax Band. She performed with legendary mezzo-soprano Frederica von Stade at the Kennedy Center's Terrace Theater, where The Washington Post deemed her "a worthy support" to the opera diva. Ms. Curenton has been featured in Flutists Quarterly magazine and her performances have been broadcast on Washington, D.C.'s WGMS and Boston's WGBH radio stations. Upcoming highlights include her concerto debut with the Black Pearl Chamber Orchestra, and appearances on Astral's series as concerto soloist with Symphony in C and in a concert featuring a world-premiere work by her mother, Evelyn Simpson-Curenton.
Julietta Curenton is a member of Duo Rhone, with harpist Bridget Kibbey. The Duo has performed at the World Harp Congress of Geneva, Switzerland, the Journée de la Harpe festival held in Arles, France, and Italy's Spoleto Music Festival. As an orchestral musician, Ms. Curenton makes frequent appearances with both the Virginia and Richmond symphonies. She has also performed with the National Repertory Orchestra of Breckenridge and at the Tanglewood Institute.
With a keen interest in a wide array of musical genres, particularly Blues, Jazz, Spirituals, Gospel, Rhythm and Blues, and Soul, Ms. Curenton is an avid proponent of bringing Gospel and Spirituals to the classical concert stage, and seeks and commissions works in these genres to add to the classical flute repertoire. She has appeared with many Grammy-nominated and award-winning Gospel artists including Richard Smallwood, Donnie McClurkin, Donald Lawrence, and Kim Burrell, and frequently performs with The Curenton Family. Her mother is critically acclaimed composer/organist/vocalist Evelyn Simpson-Curenton, whose works performed by The Curenton Family can be found on the Smithsonian's Folkways Recording, entitled "Praise the Lord: Gospel Music in Washington, D.C." Ms. Curenton's critically acclaimed Philadelphia recital debut in February 2012, as part of Astral's Spiritual Voyages Festival, included spiritual works arranged for classical flute by her mother. She is also principal flute of the Soulful Symphony.
In addition to maintaining an active solo, orchestral, and chamber music schedule, Julietta Curenton is also a music educator who has worked with students throughout the Washington, D.C. and New York Metropolitan areas. She recently completed a fellowship with The Academy – a ground-breaking educational program of Carnegie Hall, The Juilliard School, and The Weill Music Institute (Ensemble ACJW). She appeared in Tokyo's Suntory Hall with Ensemble ACJW in September 2012.
Ms. Curenton received a Bachelor of Music degree from The Juilliard School, where she studied with Jeanne Baxstresser and Carol Wincenc. She holds a Master of Music degree from The Royal Northern College of Music in Manchester, England, under Peter Lloyd.