2009 Award Winner: Lidia Kaminska, Accordion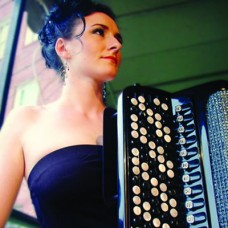 Accordionist Lidia Kaminska, the winner of Astral Artistic Services' 2007 National Auditions, has performed extensively in both the U.S. and Europe. Ms. Kaminska's chamber music, concerto, and solo performances explore the complex and expressive range of the accordion as a classical instrument, and her repertoire includes a broad range of classical, contemporary, and avant-garde music. She conceived her first album, Breaking Boundaries, as part of her mission to change the perception of the accordion from parlor entertainment to a serious classical instrument; Philadelphia Magazine claims "she transforms the accordion into a massive force – more pipe organ than squeezebox – and burns through [classical repertoire] with virtuosic speed and technique."
Ms. Kaminska began playing the accordion at the age of eight. By eleven she was competing in international competitions in Bulgaria and Germany, and just a year later gave solo performances in Holland, Austria, and Germany, as well as in her native Poland. Upon receiving a Master's degree from the Chopin Academy of Music in Warsaw, she came to the U.S. to study at the University of Missouri/Kansas City; at 25 she became the first (and only) person in the U.S. to receive a Doctorate in Accordion Performance.
The recipient of a 2009 Career Advancement Award from the Musical Fund Society of Philadelphia, Ms. Kaminska also received First Prize in the 2002 Accordion Teachers Guild International Competition in Orlando, Florida, the Special Prize in New York City's International Tango Music Competition, with the Argentine tango ensemble Tango Lorca, and Second Prize at the 2007 Coupe Mondiale International Competition for Ensemble Music. She has researched and performed the works of Astor Piazzolla extensively. Also possessing a special interest in new music, Ms. Kaminska has premièred works by Julia Alford Fowler and Paul Rudy, and has appeared with the contemporary music ensembles New Ear and Musica Nova. She has also performed with both the Owen/Cox Dance Group and at the world première of BalletX; she went on to collaborate with Mathew Neenan of BalletX, and with dancer/choreographer Jorge Laico, for Pennsylvania Dance Theatre.
Ms. Kaminska recently performed in a concert entitled "From My Latin Soul," with legendary tenor Plácido Domingo in Washington, D.C.'s Constitution Hall. Symphony in C featured her in a sold-out performance as soloist in Piazzolla's Aconcagua concerto for bandoneón, and she recently made a return appearance at the Symphony. She has also been a featured soloist with the Delaware Symphony Orchestra, the Brooklyn Friends of Chamber Music, the Kielce Philharmonic Orchestra of Poland, the Strings of Lodz, the Concord Chamber Orchestra, the North Arkansas Symphony Orchestra, and the Kansas City Chamber Orchestra. She has also been presented at Philadelphia's Kimmel Center for the Performing Arts. Philadelphia Magazine featured her in its 2006 "Best of Philly" issue, and her interview with Marty Moss-Coane was recently broadcast on WHYY and NPR.
Spring 2007 marked Ms. Kaminska's bandoneón debut, at Lincoln Center. Upcoming performances include her Merkin Recital Hall debut in New York, a performance with the Jupiter Symphony Chamber Players, and a recital at Eastern College for Tri County Concerts.