2003 Award Winner: Marc-André Hamelin, Piano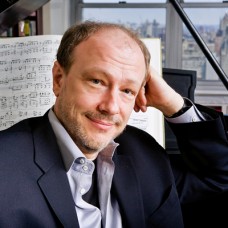 Pianist Marc-André Hamelin is renowned for his fresh readings of the established repertoire and his intrepid exploration of lesser known works of the 19th and 20th centuries. He is admired for his brilliant technique and his questing, deep thinking approach to everything he plays. In the words of James Oestreich of The New York Times:
"The pianist Marc-André Hamelin is fearless. No successful performer can afford to show fear from the stage, but with Mr. Hamelin, fearlessness is something more: a positive attribute, a confident calm that he exudes even while unleashing volcanic eruptions of sound and emotion."
July 31, 2011
In recent seasons Hamelin has appeared as recitalist or orchestral guest soloist in such cities as New York, Chicago, Detroit, Boston, Portland, and in Quebec, Canada and internationally in Antwerp, Berlin, London, Melbourne, Rotterdam, and Milan, among many other cities. A prolific recording artist, Mr. Hamelin has set to disk some 50 CDs for the Hyperion label; these range from the neglected masterpieces of Alkan, Ives, Medtner and Roslavets to brilliantly received performances of Haydn, Mozart, Schumann, Brahms, and Chopin.
In 2010 Mr. Hamelin joined the ranks on CD of noted composer-pianists by releasing his own highly inventive "12 Etudes in all the minor keys" on the Hyperion label and with publication by Edition Peters. In recognition of his remarkable discography, Mr. Hamelin was presented with a lifetime achievement prize in the year 2011 by the German Record Critic's Award (Preis der deutschen Schallplattenkritik). In June 2009 Mr. Hamelin was also awarded the Italian 2009 Premio nazionale per il disco classico in the category "soloist" for his Hyperion disc devoted to the Godowsky-Strauss transcriptions.
Winner of the 1985 Carnegie Hall Competition, Marc-André Hamelin was born in Montreal. He began to play the piano at the age of five, and by the age of nine had already won top prize in the Canadian Music Competition. Mr. Hamelin's father, a pharmacist by trade who was also a keen pianist, had introduced him to the works of Alkan, Medtner and Sorabji when he was still very young. Mr. Hamelin's principal teachers included his father, Gilles Hamelin, Yvonne Hubert, Harvey Wedeen and Russell Sherman; he studied at the École Vincent d'Indy in Montreal and then at Temple University in Philadelphia. He was honored to be made an Officer of the Order of Canada in 2003 and a Chevalier de l'Ordre du Québec in 2004. He is also a member of the Royal Society of Canada. Mr. Hamelin is featured in the book The Composer-Pianists: Hamelin and the Eight by Robert Rimm, published by Amadeus Press.