2005 Award Winner: Nicholas Kendall, Violin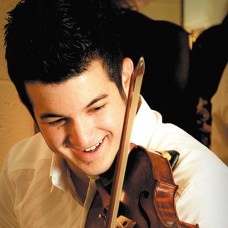 Nick Kendall studied at the Curtis Institute with the internationally renowned violinist Victor Danchenko. He maintains a strong interest in other musical instruments and genres and is an enthusiastic teacher who utilizes elements from both classical and non-traditional repertoires in his popular workshops.
Nick debuted with the National Symphony Orchestra and the Saint Louis Symphony Orchestra as the winner of their Young Artists competitions. He has since performed in the concert halls of Anchorage, Chapel Hill, Chicago, Cleveland, Indianapolis, Louisville, San Francisco and Tokyo. In addition to his extensive recording and performance activities as a member of Tf3, Nick is also a member of both the East Coast Chamber Orchestra (ECCO) and the Dryden String Quartet.