2004 Award Winner: Scott St. John, Violin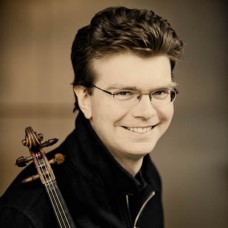 Scott St. John is a violinist in the St. Lawrence String Quartet and Artist-in-Residence at Stanford University. The SLSQ performs over 100 concerts worldwide every year. The foursome regularly delivers traditional quartet repertoire, but is also fervently committed to performing and expanding the works of living composers. This season sees them performing new works by both John Adams and Osvaldo Golijov.
On the solo side, Scott made his Carnegie debut in 1988 after winning 1st prize in the Alexander Schneider Competition; he has also won the Young Concert Artists Award and an Avery Fisher Career Grant. Concertos and recitals were part of Scott's early professional life, with performances all across Canada, the US, New Zealand and Germany. He is especially proud of a recording produced in Vancouver with pianist Rena Sharon: the disc is entitled "Salon Parisien" and features Poulenc Sonata. More recently Scott and his sister Lara teamed up for a recording of Mozart's Symphonie Concertante with the Knights orchestra.
Scott is a graduate of the Curtis Institute of Music where he studied violin with David Cerone, Arnold Steinhardt, and chamber music with Felix Galimir. Childhood teachers Richard Lawrence and David Cerone were huge influences and mentors. A long association with the Marlboro Music Festival in Vermont began in 1987– a memorable summer of playing chamber music with amazing people, like Claude Frank, David Soyer, Philipp Naegele, Rudolf Serkin and current SLSQ colleague Christopher Costanza. Scott lived in New York City for most of the 1990s, and enjoys telling the story about taking a violin "sabbatical". For a year, Scott worked daytime in an office, and nights at the Disney Store in Times Square. In 1999, Scott moved to Toronto for a full-time position at University of Toronto and helped to build its chamber music program. In 2006, Scott moved to California to join the St. Lawrence String Quartet.
Other interests include early American violinmaker J. B. Squier, early American composers, rail travel, urban transit, California High-Speed Rail, subway maps, running, Disney, and sustainable eating. Scott is married to violist Sharon Wei, and they live in Kimball Arts Dorm at Stanford University.