2017 Award Winner: Xavier Foley, Double Bass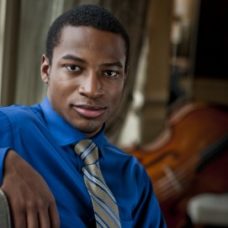 Winner of a 2018 Avery Fisher Career Grant, double bassist Xavier Foley has captivated audiences "with superbly executed performances… playing fluidly and passionately" (Splash Magazines). In the 2017-2018 season, Mr. Foley appears as soloist with the Orchard Park Symphony Orchestra, and performs recitals at the Port Washington Library, the Paramount Theatre, the Perlman Music Program Alumni Recital Series, the Harriman-Jewell Series, and at the Buffalo Chamber Music Society.
As a Winner of the 2016 Young Concert Artists International Auditions along with four Performance Prizes, he gave his New York and Washington, DC debut recitals this season, which included two of his own compositions. Xavier Foley is only the second double bassist in the 57-year history of YCA to win and join its roster.
Mr. Foley has appeared as soloist with the Atlanta Symphony, Nashville Symphony, Brevard Concert Orchestra, The Philadelphia Orchestra, Sphinx Symphony Orchestra and with the Sphinx Virtuosi at Carnegie Hall.   An active chamber musician, Mr. Foley begins a three-year residency with The Chamber Music Society of Lincoln Center's CMS Two during the 2018-19 season, and he has performed chamber music at the Tippet Rise Music Festival, the Bridgehampton Chamber Music Festival, at Wolf Trap and with New York City's Jupiter Chamber Players.
His numerous prizes include Philadelphia's Musical Fund Society Award in 2017 to perform on the Philadelphia Chamber Music Society Series, and First Prizes at Astral's 2014 National Auditions, Sphinx's 2014 Competition, and at the 2011 International Society of Bassists Competition. Xavier Foley has participated in the Marlboro Music and the Delaware Chamber Music Festivals.
Hailing from Marietta, Georgia, Xavier Foley earned his Bachelor of Music from the Curtis Institute of Music in 2016, after working with Edgar Meyer and Hal Robinson. Mr. Foley's double bass was crafted by Rumano Solano.