Stephen Jaffe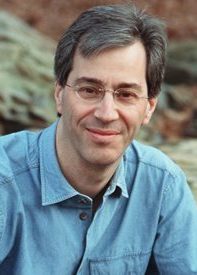 The music of Stephen Jaffe has been regularly performed in the U.S., Europe, and Asia by such organizations as the National Symphony Orchestra, the San Francisco and New Jersey Symphonies, the Oregon Bach Festival, Spectrum Concerts Berlin, London's Lontano, and many others. About a dozen of his works have been recorded on the Bridge, Neuma, Albany, and CRI labels, including Concerto for Violin and Orchestra (Bridge 9141) winner of the Koussevitsky International Recording Award in 2006, and also awarded 10/10 Highest Rating from Classictoday.com.
Jaffe's work has been described as direct and involving without ever being simplistic; emotionally complex but not convoluted. Writing about the composer's Double Sonata in the New York Times, Will Crutchfield remarked that the composer's harmonies were "rich with consonant intervals, although I would not call them neo-Romantic, and they certainly did not sound like any particular music of the past."
Born in Washington, D.C., Stephen Jaffe received his training in composition at the University of Pennsylvania, where he studied with George Crumb, George Rochberg, and Richard Wernick, and at the Conservatoire de Musique in Geneva, Switzerland. In addition to a Premiere Medaille from that institution, his work has been recognized with the Rome Prize from the American Academy in Rome, the American Academy of Arts and Letters Prize, and fellowships from the National Endowment for the Arts, Tanglewood, and the Guggenheim Foundation. Jaffe's works have been commissioned by a variety of groups, including the Fromm and Naumburg Foundations, the National Symphony, and the Orchestra of St. Luke's. Citing his "eloquent and original voice" in 1989 Brandeis University awarded him its Creative Arts Citation, and in 1991, Jaffe received the Kennedy Center Friedheim Award for his 32-minute First Quartet written for the Ciompi Quartet. In 2005, Jaffe was the Classical Recording Society's Composer of the Year, and in 2007, a master artist at the Atlantic Center for the Arts.
Jaffe's projects have included three major concerti: Concerto for Cello and Orchestra (2003), commissioned by the National Symphony (Leonard Slatkin, Music Director), for the orchestra's principal cellist David Hardy; Concerto for Violin and Orchestra, written for Nicholas Kitchen, recorded for Bridge by Gregory Fulkerson, violin, and the Odense, Denmark Philharmonic; and Chamber Concerto ("Singing Figures"), for Oboe and Ensemble, commissioned by the Orchestra of St. Luke's and subsequently recorded by Speculum Musicae with Stephen Taylor, oboe. Additional orchestral premieres have included short takes such as Cut Time, also by Leonard Slatkin and the National Symphony and two orchestral works written for the North Carolina Symphony under Grant Llewellyn: Poetry of the Piedmont, and Cithara mea (Evocations): Spanish Music Notebook for Orchestra, based on Spanish Renaissance music. Recent contributions to chamber music include Light Dances (Chamber Concerto No. 2), written for Philadelphia's Network for New Music; a cello and piano work, Sonata (in Four Parts) for the Kennedy Center Chamber Players, and Designs II, for a trio of clarinet/bass clarinet, guitar/electric guitar, and percussion.
Stephen Jaffe lives in Durham, North Carolina, where he teaches at Duke University and co-directs the concert series Encounters: with the Music of Our Time. In 1999 he was appointed Mary D.B.T. and James Semans Professor of Composition.